Rehab Exercises In Maplewood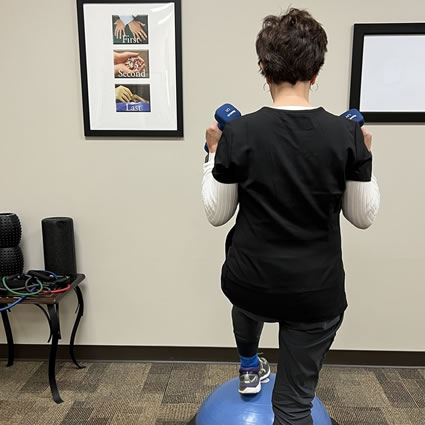 Incorporating rehabilitative exercise into your care can help improve range of motion and speed the healing process. At Maplewood Spine Chiropractic Center, we provide customized programs that incorporate stretching, strengthening or stabilizing exercises for patients who can benefit from them.
How Does It Work?
Our online system allows Dr. Eastlund to customize an exercise program for you, based on your specific needs. Any exercises given to you will first be demonstrated to you and performed by you in-person during your visit. You will also have the option to receive printed handouts of these exercises. Programs which are sent by email will include a video demonstration which will reinforce the importance of proper technique. Typically, we'll give you one to two exercises at a time; we won't overwhelm you with dozens!
NEW PATIENTS »

One benefit of our online system is that you can access the video tutorials from your phone or laptop for up to 8 weeks. This provides you with the opportunity to participate in your own recovery at a time and place convenient for you.
As your condition improves, we can modify and add to your exercise program to keep you moving in the right direction. There are many movements that can help achieve the same outcome. If you're unable to do a particular exercise, we can offer an alternative.
Who Can Benefit From This Service?
We usually recommend rehab exercises for people who have sustained injuries or have problems that may be caused or worsened by lifestyle habits such as sitting for long periods of time. In addition to increasing range of motion and stability, we can provide stretches and exercises to help with postural correction, increasing strength and more. The program is completely customized to your specific situation.
By combining rehab exercises with chiropractic adjustments, we help your body heal the muscles and soft tissues, improve strength, endurance and flexibility. This comprehensive approach can often speed the healing process and help reduce pain.
Learn More Today
Contact us today to book your first appointment or learn more about rehab exercises.
---
Rehab Exercises Maplewood, White Bear Lake, North St. Paul, Little Canada MN | (651) 779-9282